Pride In Pill MBE. Community guardians since 2014
Established since 2014, Pride In Pill MBE is a multi award winning local community volunteering group, based in the Pillgwenlly area of Newport. We have regular group meetings and are gaining new members from the community. The litter pick side is well established with Pride In Pill (PIP) organising hundreds of events. In addition, litter such as bottles, cans and plastics get recycled.
In 2018 some of the volunteers took part in sharps training allowing us to be called on by the residents of the city to pick up thousands of disregarded needles. This has proven to be a huge part of Pride In Pill and has made us a household name beyond Newport, Cardiff, Swansea and throughout the rest of South Wales.
PIP – Supporting the homeless since 2018
In 2018, Pride In Pill had a boost of new volunteers who were (and still are) highly self-motivated. Each and every single volunteer and team member continue to thrive on PIPs success. Shortly afterwards a hugely successful city wide campaign called "Pride In Pill – Supporting The Homeless Project" was born. Sadly the number of people living in crisis in our city is growing, so we are delighted to be working with other well established groups and organisations to help people live the life they deserve.
We have now been supporting the city's homeless ever since by providing food, clothing, toiletries and other essentials. In addition we've also gained trust with the community and have been privileged to see people go from homeless to housed.
NOMINATIONS NOW OPEN. EXTENDED TO 1ST FEB 2024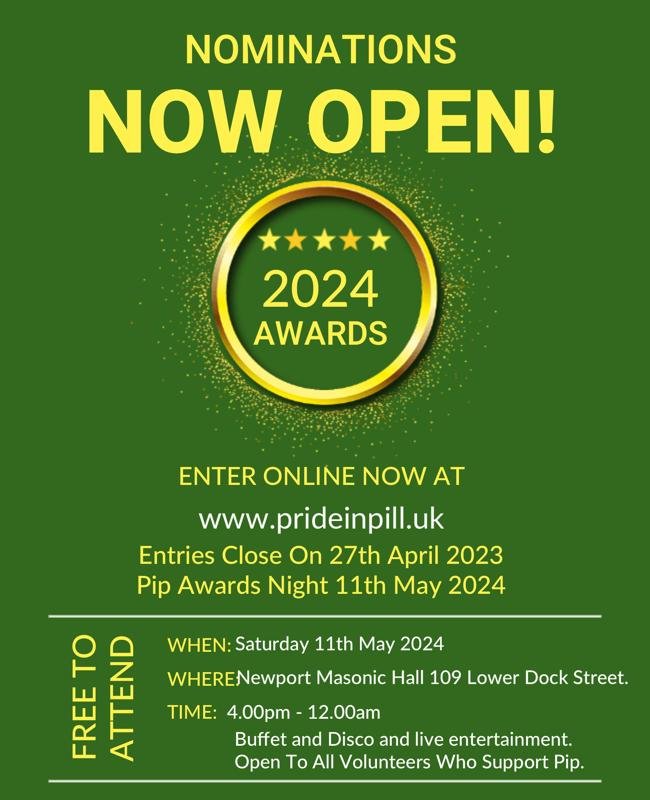 Come along and help PiP celebrate our 10th Birthday! We will be having an awards ceremony on the night, with a disco, buffet and live entertainment. Nominate
Pride In Pill's Weekend Trips for 2023
Everyone is welcome to any of our weekend trips in 2023. Trips to Amsterdam, Ostend, Disneyland Paris and/or Norbreck Castle Hotel & Spa in Blackpool.
Pride In Pill's Coach Trips for 2023
Join us for a family fun coach trip to one of our favourite travel spots, visiting cities such as Birmingham, London, Bath and Barry Island. Guaranteed fun for all the family.
A few moments with PIP's Paul Murphy
"From humble beginnings in 2014 to multi award winners almost a decade later, Pride In Pill MBE continue to do Newport proud. Our main community roles include environmental clean up days and supporting Newport's homeless population. In addition, we are busy every Easter and Christmas providing Easter eggs and toys for children who have to spend Christmas Day in hospitals throughout South Wales. None of this would have been possible without our volunteers, sponsors and the kindness of your donations. Pride In Pill would like to thank each and every single one of you whole heartedly".
Paul Murphy, Chairman – Pride In Pill MBE
We love our team and we think you will too
Let us take a moment to introduce ourselves. Meet some committee members behind Pride In Pill – Support The Homeless. We would not be where we are today without our highly motivated team.
Paul Murphy
Chairman
Jason Kennerly
Vice Chair
Tracey Jones
Trustee
Margaret Morgan
Treasurer
Steve Preddy
Riverbank Coordinator
Yvonne Bale
Events Manager
Mark Gillum
Facilities Manager
Michelle Norton
Secretary
What people are saying about Pride In Pill and our group of volunteers…